Once more, I thank everyone who participated in The Magi Blitz. For a debut author and the first book in a series, I think we all did well. The Magi is sitting on a highest rated list on Amazon (I will post about that later today...and it's on the ticker above), and sales have been steady. With basically no word of mouth spreading yet (have to give those who purchased it time to read it), sales have done well.
I would still love to hear from those of you that are either in the middle of reading The Magi or it's on your to-do list and hear what your thoughts were.
The link to The Magi Blitz will be taken off soon, so remember, purchasing, reviewing, and clicking on Goodreads, Amazon, Barnes and Noble, and following the blog are on my wish list. Christmas is just around the corner!
Speaking of Christmas, if any of you are interested in free stuff (book related), I am participating in a Blog Hop on December 2-6. The idea of a hop is that starting on my site (or others), you will see a graphic like this: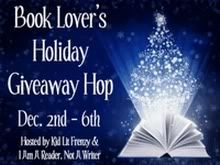 Directly under the graphic will be a HUGE list of blogs that are giving away book-related stuff (usually free books). During that time, all you will have to do is follow the instructions of each blog to enter the giveaway, then click the next link under the blog you just visited. There are hundreds you can go to!
Thank you all and I hope you enjoy or enjoyed or will enjoy The Magi. Now it's time for me to do some much needed writing on the sequel (The Sphere). It's coming along, but I've gotten behind. Tell a friend!
Kevin